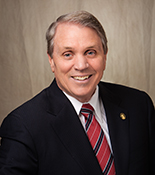 Wayne Lindholm Graduated from Colorado State University in 1975 with a degree in ICM, (Industrial Construction Management), and spent his entire 40 year career with Hensel Phelps Construction Co... Wayne's father, Howard, received his Master's in Animal Science from CSU and his daughter, Laura, graduated with a degree in Human Development so he was in the middle of 3 generations that attended CSU. He married Linda Kay Powers, also a CSU graduate in Occupational Therapy so CSU runs thru the family, he now resides in Laguna Niguel in Southern California.
Howard Lindholm was a professor for CSU in their exchange program so Wayne had the opportunity to live with his family in Peshawar, Pakistan for 4 years in the early 60's. The family would vacation in Afghanistan, India, throughout Pakistan and was fortunate to travel thru Europe and Asia. This gave Wayne a desire for travel and adventure that propelled his career and travels later in life. They lived about 30 miles from where Obama was captured but Pakistan is a much different country today.
Wayne married Linda Kay Powers in 1974. Linda received her degree in Occupational Therapy in 1974 from CSU and then her Master's in Public Administration from KU. After moving numerous times for Wayne's work they landed in Southern California to open the Hensel Phelps Office. Linda then got into politics serving on the Laguna Niguel City Council for 16 years and as Mayor for 4 years, she is currently elected to the Orange County Board of Education serving 505,000 kids in the K-12 school system. During their moves they had time to raise 3 kids.
Laura-33 is a CSU graduate in Human Development and she received her Master's in Occupational Therapy from Dominican in Santa Rosa. She works in Redondo Beach California as an OT. Kari-31 is a Business Graduate from Chapman and working for Pacific Hospitality Group managing hotels. Both girls are married, Kari has a son, Sebastian who is 1½ years old. Cody is 19 and attending Cal Poly Pomona majoring in Electrical Engineering and Computer Science.
Shortly after returning from Pakistan Howard took up farming with a small farm on Overland Trail towards La Porte. Upon graduation from Poudre High School Wayne worked in the Oil Fields on the North Slope of Alaska and taught Scuba Diving attaining a Master Dive Certificate! He then started at CSU in Mechanical Engineering. There is where the first Influence from a professor, Erwin Neilson, played a major part in his life convincing him to go in to Construction Management from Mechanical Engineering. Neilson's were family friends in Pakistan. By that time Wayne and his brother Dale had started a construction company to pay for college. Dale Lindholm Builders is still today one of the preeminent Residential Builders in Fort Collins. The second major assist from a professor was the recommendation by Jim Young to Hensel Phelps to hire a new graduate in 1975 when work in the construction business was scarce.
Wayne's 40 year career with Hensel Phelps took him to 7 states and multiple moves. He started from the ground up as a Field Engineer on a large project in Kansas, moved to Wyoming as a Project Engineer, became a Project Manager in Arizona and Seattle Washington. He helped start the Southern California office and eventually became Executive Vice President overseeing offices in Northern and Southern California and then Arizona overseeing about $1Billion annually in a company that grew to $3Billion in Revenue. He never forgot the culture and roots planted by another CSU Graduate, Joseph Phelps who developed Hensel Phelps into the National Contractor it is today and then Developed the Joseph Winery in Napa Valley. The work ranged from Industrial Water Treatment plants to Jails and eventually hospital and large Airport work at LAX and throughout the Western US.
After 40 years Wayne retried from Hensel Phelps to devote more time managing Lindholm Management where he serves as President. Lindholm Management invests in Stocks, Bonds Hedge Funds, Real-estate and Alternative Investments. He is currently President of the Lincoln Club of Orange County and instrumental in helping pro-business candidates get elected to local and state wide offices.
Wayne has served on numerous boards including:
President of Western Chapter of DBIA, (Design Build Institute of America), he is certified as a professional in the Design Build Industry
Served on the National Board for DBIA
President of California Associated General Contractors
President of the Irvine Chamber of Commerce
Appointed to the Orange County Employer Retirement System overseeing $12 Billion in assists
Past President of the Orange County Chapter of AGC, currently serving on the Board
Member of the Orange County Pilots Association
Working with Charities Building an Orphanage in India to house 300 Orphans and educate 2000 kids
Member of the Samaritans for the Mission Viejo Hospital
Serve on Legislative Boards for AGC, DBIA and the Irvine Chamber
Wayne still maintains an office and is currently President of Lindholm Management LLC which invests in hotels and other real estate. His hobbies are:
Loves to fly, Maintains a Private Pilot's License
Snow Skiing
Travel and Cruising to foreign Countries
©